Carmen and I have reached the point in our lives where buying stuff for each other at Christmas is kind of superfluous. Stuff we need, we already buy, and stuff we don't need aren't the greatest gifts. What's really valuable is the time we spend together. Toward that end, my wife Carmen used her own creativity, and signed us both up for a cooking class at Kitchen on Fire, a little place next to Chez Pannisse in Berkeley.
From their website:
Founded in 2005 by seasoned restaurateur and author Olivier Said of Cesar and popular chef instructor and caterer Chef MikeC.of Party Lifestyle, Kitchen on Fire® is located in Berkeley's Gourmet Ghetto. Kitchen on Fire® is located in the Epicurious Garden which is an expansion and continuation of the gourmet cuisine legacy started by Alice Waters at Chez Panisse more than 30 years ago. Our classes offer a range of real skills for entertaining from learning how to throw a party on a budget to uncovering the mysteries of baking the perfect chocolate chip cookie. We also offer kitchen design consulting, corporate teambuilding workshops, in-home classes, classes for kids , private parties and events.
Our class was entitled "A Chef's New Years Feast", and included:
Spinach and Smoked Salmon Salad with Soft Cooked Egg, Radish, and Lemon Dill Dressing
Winter Vegetable Tarte Tatin
Truffled Three Cheese and Seasonal Mushroom Cheese Gratin
Maple Glazed Ham with Root Vegetable Puree
Spiced Poached Pears With Almond Brittle
The class was three hours, with the first spent just discussing the menu, and the last two hours spent prepping and eating the food. Each of the dishes was just a little bit more elegant than the version that I would attempt. I've done salmon and spinach salad, but typically don't make my own dressing from scratch. Their vegetable Tarte Tatin was very similar to the ratatouille that I've made a few times, but over puff pastry dough. The gratin is dressed up mac and cheese (very tasty). The ham was cooked over a bed of apples, tangerines and oranges, and was scented nicely from the fruit. And the poached pears were awesome, served with a little almond brittle, some pomegranate molasses and a scoop of vanilla gelato.
We had a great time. The class wasn't intimidating at all, and the resulting dishes were delish. We'll probably go back for another class sometime in the future.
Here are some camera phone pics: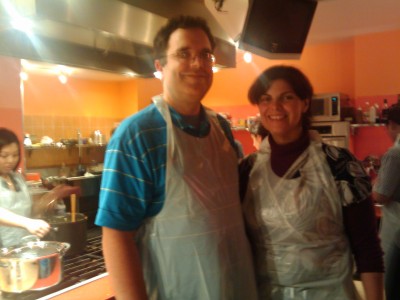 Okay, for every slobbery dog video I post, I promise to post something with a little more meat. My friend Tom is interested in all kinds of computer music and interface technologies, and no doubt, has already seen this controller. But just in case he hasn't, here's a really nifty controller, and even he has seen it before, the rest of you can be inspired by this home brew multitouch controller. Very nifty.
Intimate Control for Physical Modeling Synthesis.
Multitouch Prototype 2
from
Randy Jones
on
Vimeo
.
Okay, I mostly don't post pet videos on this blog, but sometimes, you just have to make an exception, like when someone decides to give a bean burrito to his dog.
Okay, you don't really need to make an exception. But I did. What can I say, for some reason I never posted anything on Dec 29 before, so I need to do something.
Addendum: Yes, the title was supposed to bring up images similar to "man eating lion" or "woman eating cabbage".
Laura Halliday mentioned this page on the QRP-L while discussing the innards of those Radio Shack "atomic clocks" that you can buy. Seems like there are some good links to helpful information regarding the time services provided by NIST via WWV.
NIST Time and Frequency Publication Database.
Addendum: Jim Miller, AC3BV gave this link on deconstructing a Sony WWVB clock. It included an external antenna/receiver combo, which output a 1hz pulse position modulated signal. Very interesting!