I'm spending way too much time sitting around this morning, surfing the web. I'm gonna stop, but before I do, here's a link to an interested TED talk about how statistics can be misused to mislead juries.
Thanks to KE9V for pointing me at this lecture by Randy Pausch:

httpvh://www.youtube.com/watch?v=ji5_MqicxSo

I don't know what rock I've been living under, but it's a fabulous lecture. You can read more about Randy here. As the New Year approaches and some of us might be making resolutions, it's definitely worth watching.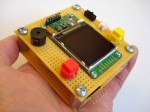 Okay, it's not really a "kit", it's just some directions on how you can wire some commonly available gadgets (like a Nokia 6100 LCD panel or a piezo speaker) to an Arduino board and make a nice little demonstration board. Some good ideas in here.
Polyphemus Demonstration and Evaluation Kit | Popular Science.