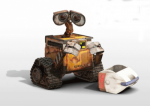 I don't spend much time talking about my day job here on the blog, but every once in a while, I have to take time out and crow a bit about Pixar and what a great place it is to work. Tonight, Wall-E picked up a Golden Globe for Best Animated Film. It was also nominated for Best Original Song for the great closing song written by Peter Gabriel and Thomas Newman, and performed by Peter Gabriel and the Soweto Gospel Choir.
I am once again amazed at how much fun a job can be, and how enormously fun and talented a crew we have. Special thanks to all the rendering crew, and congratulations to all who worked on Wall-E.
More digging around for information about the RF probe, I found this link to the NJQRP's presentation at Atlanticon 2000. It's a cute little QRPP rig built Manhattan style, and includes a discussions of the RF probe setup to measure it's output. Neat.
Atlanticon Kit - It's a Snap!.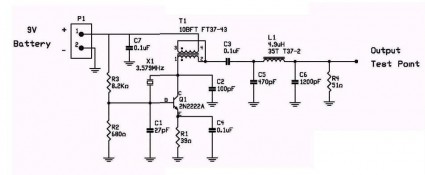 My dummy load experiment still has a few unanswered questions, but I found that the ARRL Handbook has had a circuit which is basically what I built, minus the one series resistor. It looks like this: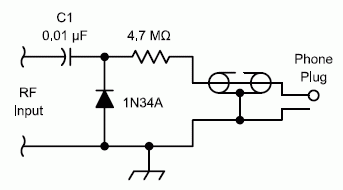 Okay, they use a germanium diode with considerably lower voltage drop, and include a 4.7M ohm resistor in series to the DVM. This circuit also appears on the QRPEDIA posting on RF probes, and apparently is constructed as part of the assembly of the Elecraft K2.
Here's a posting talking about how the different diodes make for different performance.