Wall-E gets a Golden Globe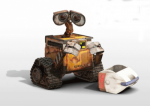 I don't spend much time talking about my day job here on the blog, but every once in a while, I have to take time out and crow a bit about Pixar and what a great place it is to work. Tonight, Wall-E picked up a Golden Globe for Best Animated Film. It was also nominated for Best Original Song for the great closing song written by Peter Gabriel and Thomas Newman, and performed by Peter Gabriel and the Soweto Gospel Choir.
I am once again amazed at how much fun a job can be, and how enormously fun and talented a crew we have. Special thanks to all the rendering crew, and congratulations to all who worked on Wall-E.