First Weather Picture from NOAA-19
Update: If you do a search for NOAA 19 on google, this blog post actually makes it to the front page. Some of you might be looking for information as to how you can listen for it. I use a Radio Shack Pro-60 scanner, tuned to 137.9125 Mhz, set in WFM mode, and my hand held antenna. I'll try to make a video of my complete setup soon, and link it here… Now, back to the original posting.
Well, not really it's first picture, but the first picture that I received. NOAA-19 is the last of the U.S. series that will transmit APT imagery, which is the simple analog format that I can receive using my super cheap setup. It's also the satellite that was badly damaged during tested when the technicians failed to secure it before tilting it, resulting in millions in damage. It was finally launched on February 6th.
Anyway… here's the picture, one of my better ones! It looks like both images are sending the same data here (I understand the satellite is still in testing mode).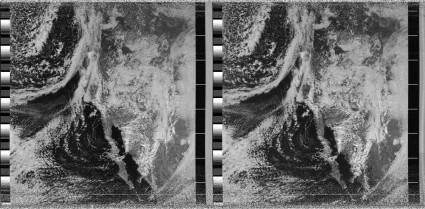 Pass was recorded Feb 8, 2009, beginning around 21:18 UTC.
Addendum: Here's the picture of the satellite accident.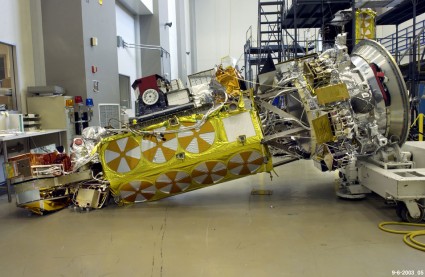 Comments