On ARISSat-1 SSTV images…
I've been trying to get out and record more ARISSAT-1 passes, in the hopes of getting some nice SSTV images. If you follow @brainwagon on twitter, you are likely to see some of the more mundane images that I've been getting thusfar. I keep hoping to snag some truly great ones, but thus far, the earth seems to be really good at evading the lens of ARISSAT-1 while it's above my radio horizon. For instance, today I got these two pictures: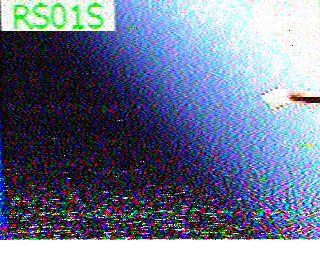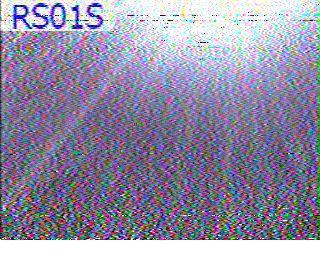 Not exactly exciting. There is an 82 degree pass later today, maybe I'll luck out.
One thing that might not be obvious is that ARISSat-1 has four cameras. You can tell which camera is in use by looking at the color of the RS01S logo in the upper left of the SSTV image.
Red indicates the camera pointing along the -Y axis.
Green indicates the +Z camera. You can sometimes see the 2m antenna in this view (as you can in the green logo image above, poking in from screen right).
Blue is -Z pointing view, out the "bottom" of the satellite.
Magenta is the +Y pointing camera.
When I look at the ARISSat-1 SSTV gallery hosted by AMSAT, I see that most of the "good" pictures come from the blue and magenta cameras, but it seems clear that the orientation of the satellite drifts a bit, and there is no guarantee. I'll just keep plugging away until I get something better.