A $.33 MAX232CPE, or a $0.01 2N3904?
In response to my previous post, @xek replied:
@brainwagon has anyone suggested the stupid bjt inverting "buffer" trick?
Well, the fact is I had heard of doing that. It's not really hard to rig something that will convert the RS232 level from the GPS into TTL levels for the Arduino. It just takes a single transistor inverter: you rig an 10K resistor from the RS232 signal to the base, a 1K resistor from 5v to the collector, and then ground the emitter. Tap the transistor on the emitter side, and voila! It works. I rigged this up on the breadboard and checked it on the scope, and sure enough: 5v and 0v. I then coded up a simple sketch which used the SoftwareSerial library: it instantiates a serial port, then copies bytes when available to the normal Serial output device. Once I remembered that my GPS output at 4800 baud, the program worked flawlessly.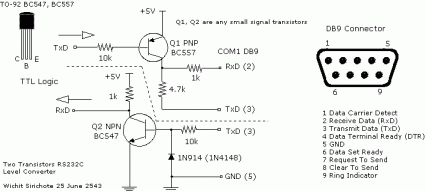 After I got this working, I gave the other direction a tiny amount of thought. I couldn't think of a good, simple way to convert the TTL level to the negative levels without using some kind of charge pump, or a negative supply. But there is a cute trick you can use, that I discovered while surfing for alternative circuits: check it out. The trick is that if you are operating half duplex (only one side of the transmission transmits at the same time), the transmit line will go to the negative state. So, if you need to output a negative value, you simply swipe the voltage from Tx side of the RS232 line. That just takes a PNP transistor. Very cute.
Addendum: the receive circuit looks the same as mine, except they add a diode. Novice that I am, I don't get why it is necessary or desirable. My circuit seems to work fine without it: can someone with experience tell me why it's a good idea?
Addendum2: The MAX232s aren't wasted: I am using it as an opportunity to learn Eagle and design a simple but still useful PCB. I'll still be working on that.
Comments