I'm currently working toward something something which I don't normally do: an achievement award. For about two months, I've been trying to log contacts via the JT65 mode on ham radio, with the eventual goal of making contacts in every state. It's not a particularly difficult award: I suspect that it will mostly require patience to get the remaining states, but it's been kind of fun, and has made me pay attention to propagation, and make at least a minor improvement to my antenna setup. As of today, I have 33 confirmed states, with unconfirmed contacts in several others. The states I have remaining are:
Alabama, Arkansas, Delaware, Georgia, Maine, Minnesota, Nevada, North Dakota, Ohio, Oregon, Rhode Island, South Carolina, South Dakota, Tennessee, Vermont, West Virginia, and Wyoming.
It's amazing that I've managed to somehow avoid Nevada and Oregon: you'd think they would be easy, but for whatever reason, my signals seem to skip right over them. And of course, some states are hard to get just because of the low ham population. I'll be stalking NT5HS a bit, which is a club station listed in Texas, but in fact operates remotely from a station in South Dakota. I've tried a couple of Maine stations before, but had difficulty reaching them.
Anyway, I'm having fun. If any of my readers lives in one of my "to do" states above, try looking for me on 20m (with occasional diversions to 15m and 40m) and see if I can't put you in the logbook.
At the Maker Faire, I splurged for a little bit of computing hardware called
the Beaglebone
. It's an $89 ARM based computer that runs at 700Mhz, and includes a MicroSD card slot and Ethernet, as well as a USB connector. I wasn't sure what I was going to use it for, but I frankly can't resist cheap hunks of hardware, and unlike the Raspberry Pi (which frankly is more interesting, since it includes video, which the Beaglebone lacks) you can actually walk up to a counter (well, at the Maker Faire you can) and buy one. So I did. Because Tom bought one. And I wouldn't want to be left behind.
But what to do with it? Well, it boots Linux off the SD card, so I could do anything with it that I could do with a Linux machine. I've mused about my computing past before on this blog. So, I thought: "let's see if I can get simh installed on it, and simulate the PDP-10/DEC 1091 of my computing past.
It's frankly pretty trivial to do. It's got gcc and wget installed, so all you have to do is fetch the source and compile it. You might want to get the pcap library installed so you can do simulated networking, and the machine itself is pretty slow (I discovered that when it's powered from the USB, it runs at only 500Mhz, which seems really slow). But there is no trouble getting it installed. Then, all you need is some software to run on it.
In my previous excursion into the world of simh, I worked through installing TOPS-10 from scratch, but I didn't feel like stumbling through that process again, so I searched the web and found a prebuilt image suitable for use. I downloaded it, unpacked it, and ran pdp10, starting it just as documented.
And... I was again hurled back through time. BASIC, COBOL and FORTRAN. 36 bit architecture. Craziness. Running on $89 worth of hardware, consuming 1W and the size of an Altoids tin.
I haven't benchmarked it, but I suspect that it runs several times as fast as the original machine. I configured it to allow one to telnet into the server to simulate serial connections. I'm sure with a little work, I could dust off the corner of my brain that held information about this stuff, and figure out how to get ADVENTURE running.
And then I thought to myself: what if I wanted to hook real serial terminals to it? A little investigation reveals that the Beaglebone has six hardware UARTs. One is dedicated for connection via USB, but four are wired to expansion pins. I dug a little more, and uncovered this awesome project: the DECbox. The author mounted a beaglebone inside of a vintage DEC VT100. He even talks about modifying the VT100 to have serial connectors on the back so you can hook in additional terminals. Since the Beaglebone can simulate a wide variety of DEC machines, you could have a PDP-8, PDP-10 or PDP-11 all inside the same space.
Very cool. I'll be keeping my eye out for a real VT100.
Addendum: in my spare time, I downloaded an image for the Gingerbread release of the Android OS. Because the Beaglebone doesn't have a display, you start a VNC server which serves as a virtual graphics device, and then connect to it via a VNC client like TightVNC (for Windows) or Chicken of the VNC (for Mac OS X). I did this more for curiousity than anything else: it's too slow to really be an adequate demo platform. But it might be of interest.
Addendum2. I was digging around to find power requirements for the board. It turns out that if you don't use the onboard USB, the current is supposed to be around 170ma, which makes the power less than 1W. But using the USB raises that a lot: the peak is almost 500ma during boot, which is about 2.5W. If you are concerned about power, ditch the USB as a power source.
Okay, these are the best of the photos that I snapped during yesterdays annular solar eclipse (well, it was really only a partial eclipse here). We had just left the Maker Faire, and were in the parking lot of Oracle on 10 Twin Dolphin Drive in Redwood City, CA. I took out my 4" Meade Maksutov telescope, along with a full aperature solar filter and a 25mm eyepiece. To take the pictures, I used a Fuji W1 camera, held up to the eyepiece, set in manual mode with an exposure of 1/100th of a second and f/4. Alignment was tricky and twitchy, and there are more crappy photos than good ones. These aren't particularly good, or sharp, but heck, they are mine, and as a reminder of a kind of neat event, they work just fine.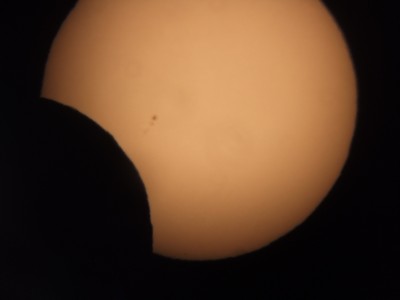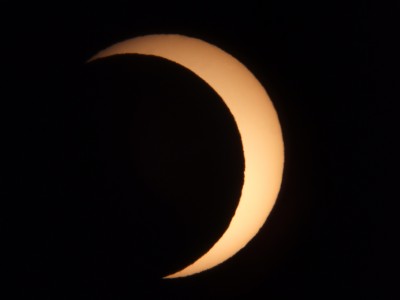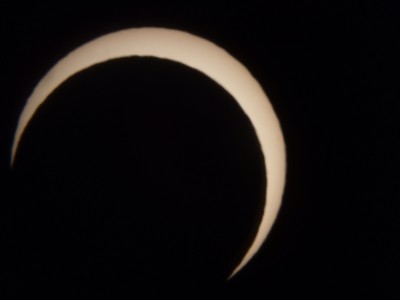 Phew. My legs are sore, and my voice is just returning to normal after a whirlwind two days at the Maker Faire in San Mateo. Thanks to everyone I bumped into and chatted with: I had a very nice time, and the partial solar eclipse was an added bonus (some pictures to come in a different post).
But in spite of all the fun I had, by the middle of Sunday, I had begun to have a bit of a uneasy feeling, a feeling that perhaps the event wasn't really so much about making, but more about just a slightly different kind of consumption. For every individual who worked on some whacky project that they brought to exhibit, there seemed to be a dozen which were companies (mostly small, but some large) which were identifying "makers" as a new market segment that they wanted to sell products to.
In many ways, that's not a bad thing: after all, I want companies like Sparkfun and Adafruit to succeed, because they make interesting components and technologies accessible to ordinary people with a desire to build. But I can't help but wonder where are the consumers of these kinds of technologies? Of all the hundreds of thousands of Arduinos sold, why are there so few examples of cool artistic or technical applications being demonstrated on the tables at Maker Faire?
The reason that I go to the Maker Faire is to celebrate in the joy of craft and tinkering. I want to be inspired to think broadly and creatively, to extend my skills, and to share in the pleasure of making the world a tiny bit more beautiful/amazing/fun.
What seems really odd to me is that I heard more than one person lament the sorry state of science/electronics/shop skills in "kids" today, that it's just really hard to learn this stuff. I couldn't help but blink: with the internet, with YouTube, with resources like IRC and mailing lists, with great companies (large ones like Digikey, and smaller ones like Sparkfun and Adafruit) I don't think it's ever been easier. One lamented the long ago loss of Don Herbert: TV's Mr. Wizard. It was a great loss, to be sure, but we don't need a TV network to promote science to young people. We can blog, podcast, form clubs and hackerspaces, and communicate with people all over the world. We have Khan Academy, Udacity, the Khan Academy, Vi Hart, and dozens of others to help inspire and educate.
In other words, we can all be Mr. Wizard. We are challenged not just to be students, but to also be instructors. To inspire others, as well as to be inspired.
By five, our little group was tired, and we were heading back to the car. At 5:18, the moon started to cover the sun, and by 5:30 we were back to the car, where my little Meade telescope and solar filter was waiting. We watched as the moon slowly ate the sun, and shadows of point sources showed the tell-tale crescent shapes. The sky got oddly dark. The temperature seemed to drop, and the wind picked up.
And then, the sun started to grow again. We packed up, and decided to head to dinner.
And I started to talk this out. And I realized that the feelings that I had were really just feelings of my own failure to live up to the ideas that I set out above. After all, I didn't bring any cool projects to the Maker Faire. (Okay, I wasn't a total slouch, I helped some young people who did bring stuff there, but the point remains.) Rather than complain about what needs to be done, I could just do something myself. If the ratio of independent creative projects to others is too low, then there is something I can do: I can bring something next year.
And, of course, over the last month, my blog has gotten a thick patina of dust. I've not been doing much with it. I could make excuses, but they don't even ring true to me. I want to do better. I'll start with trying to resume some regular posting of my ongoing projects. I'll endeavor to be more creative, and less of a consumer.
Hmmm. Maybe the Maker Faire really does work fine just the way it is.
I've got something like 30 states worked via JT65 over the last month or so, but I've obviously heard a lot more than that. I took my listening log, extracted all the U.S. callsigns, and then wrote a simple Python/sqlite script to look up each state for the callsign, and see how many states I've actually heard. It came out with 49 states. A quick perusal showed that I didn't receive any calls from Wyoming or South Dakota. A moment's further inspection showed that I had received several calls from Washington, DC, which accounted for the discrepancy.
Here's the breakdown of stations heard by state:

AK KL7YK
AL KF4RWA, KI4PG, KK4A, KK4AFS, N4AU, ND4Q, W4YXU, WB4KDI
AR AC5EI, AE5ZZ, K5DTE, K5XH, KF5HTK, KO6FU, W5TT
AZ AC7LB, AE7CD, K0TW, K3WYC, K7DTB, K7KDX, K7LOL, K7TEJ, KB7RLY, KD7PMS,
   KM3N, N1LS, N7AMA, N7GDP, N7NEV, N7SKV, N7THN, NO7P, NR5O, W7PP,
   W8FDV, WM7CH
CA AA6TF, AC6JA, AG6IP, AK1P, K0CFI, K6AZR, K6CLS, K6DKY, K6EU, K6HX,
   K6SID, KB6J, KC6OVG, KD6HQ, KD6MHL, KD6NJE, KF6XE, KG6AF, KG6WIK,
   KI4MI, KI6HS, KI6UAL, KI6VJY, KI6YAA, KJ6CC, KJ6DQR, KJ6RKZ, KO6KL,
   N3PV, N4SF, N6BO, N6BRP, N6BX, N6OL, N6RRY, N6TE, N6WS, N7LMV, NM3S,
   NM6W, NN6XX, W6DTW, W6KAP, W6ONG, W6QB, W6TQV, WA6ALA, WA6OWM, WB6EZH,
   WB6RLC, WB6ZXM, WO6M
CO AA0DW, AB0YM, AC0ZL, K0BAM, K0SU, KB0QC, KC0ONP, KD0BIK, KF0QZ, KI0J,
   N0SMX, NN0G, W0GLB, W0QL, W0RGD, W7RTX, WB4CIW
CT AG2K, WA1NGH, WF1G
DC AB3UM, N3ES, N8HM
DE AB3OF, K3BH, W3MLK
FL AD5ZA, AJ4LU, AJ4WC, K4EOD, K4LRP, K4TFT, KA4USN, KB4VC, KJ4YAC,
   KK4CIS, KK4XO, N4ABN, N6AR, ND3H, W4DAS, W4JCM, W4TV, W9IL, WA4KBD,
   WB8VQU
GA AB4RH, K2TOD, K4CHC, K4GB, K4LDC, KI4UMX, N3XX, N4LXB, N4MEP, N4PHT,
   W4ED, W4KDA, WB4WTN
HI KH6OO
IA AA0N, AC0XY, N0GR, WA0EIR, WU0U
ID KF7GMV, N7OQF, W7URX
IL K9EEI, K9JKM, K9PLX, KA9BHD, KA9CCH, KA9RXK, KB9ILT, KC9MEG, KC9NWH,
   KC9UNL, N9APK, N9FYX, N9GRG, N9OQW, N9SS, NG9R, W9RVG, W9YX, WA9KXZ,
   WA9MNF, WD9IOK
IN K9JUI, K9MQ, KC9NBV, KY9J, N9ACD, N9FDF, N9WKW, N9WVM, W9FFA, WB9IIV,
   WC0Y
KS AE0AR, KI0KK, W0PSK
KY K9AAN, KA4OJN, KD7YZ, KV4AJ, N9DFD, WA4PBM, WB4ZFO
LA AA5AU, AE5VB, K4QAL, KB5GA, NF5Z, NO5L, W5ADD, W5GAD
MA K1HFR, KB1ESR, KB1UIF, KT1B, N1GJ, N1MGO, NZ1MT, W1BS, W1MA, W1UU,
   W1XP, WA1GPO
MD AB3RS, K3IO, KB3VQH, N3FHW, N3KV, W2JVE, WA3MEJ
ME KA1QW, N1IPA, N7GLR, W1BFA, W2ZEN, W3HBM
MI KB8RMX, KC8GTX, KD8CXQ, KD8OTT, KD8RV, KG8OC, N8BB, NZ8V
MN K0JWC, KA0UEH, KB0HQD, KB0MDQ, KC0OUZ, KC0YFC, N0UE, NA0F, ND0M,
   W0DYD, W0RSB
MO AC0LP, AC0MW, K0GK, K0TPP, KD0QJL, KD0QYN, KF0IQ, KG0KP, KL7QW, W0RL,
   W0TTN, WB0LCW
MS AE5SK, KB5WKQ, KD5NDU, N4UPX, N5GDM, W8DM
MT K7CPY, KS7R, NT7R
NC K4BSZ, K4YTE, KJ4DJ, KJ4OHK, KR4RO, N4JS, W4MPS, WB4M, WB4QIZ, WZ5X
ND KI0QS
NE K0LUW, NI0B, W0YF, WD0DMO
NH KB1GKN, KJ1J, W1MSN, W1YQ
NJ K2AFY, K2RH, KC2WUF, ND2K, WX2H
NM AB5Q, K5USF, KC5TY, W5GEM
NV AB7KT, AG7CM, KE7S, KK7CC, KS7DX, W7UV
NY KA2AEY, KC2MBV, KD2BIP, N2YZS, W2MDW, WA2GSX, WB2KEC, WB2SXY, WF2S
OH AA8EN, AC8FT, K0KC, K8GI, KC8HNZ, KD8BIN, KD8RDH, KN8DMK, N8IR, N8TL,
   N8XYN, NC8T, NT8Z, W8BI, W8MDG, WA8ICJ, WT8D
OK AF5Q, K5WPN, KB5LER, NZ5C, W5LE, WQ5O
OR AA7CU, AE7TO, K2NCC, K7JPF, K7TLP, KF7JGF, KK7CG, N7MQ
PA AD2L, AK3J, K3BS, K3DY, K3HR, K3NVI, K8WHA, KC3DS, KC3U, KT3L, N3MVX,
   N3WLB, N3YEA, NC3P, W3BI, W3HZL, W3RC, WA3CAS, WA3DNM, WA3ERQ, WA3NGU,
   WA3ZKZ, WD2RA
RI K1NPT
SC AI4GY, K4AMA, K4BTC, KG6MC, KJ4IZW, KJ4ZQX, KK4DSD, WB2GJD
TN AJ4HW, AK4DW, K4KQZ, K4PJO, K4TRH, KE4TG, KX4WB, ND2E
TX AA5KK, AE5TI, AF5BO, AK5V, K2OO, K5FRD, K5TCJ, K5WW, K5YUR, K6VNG,
   KD5HOP, KD5ZAT, KE5MC, KF5IAK, KF5MDZ, KN8KAZ, N5JWM, N5LYJ, N5VP,
   NA5AA, NO5B, NT5HS, NW5P, W0LPD, W5IPA, W5MDB, W5REM, WA5MS, WA5PGS
UT K7KKY, KJ2U, N7SMI, NS7B, WA7ADK, WE7BBQ
VA K0PT, K4LCM, KE4SAV, KJ4VTH, KU4FO, KX4P, N4ST, W4KZK, W7OTQ
VT AA1E, AB1NJ, K1LES, N2BJW, W1FNB, W1HRM
WA AC7IJ, AC7SG, AE7KI, K7LFY, K7MSC, KD7PCE, KK7UQ, NY7U, W7EWG, W7NBH,
   W7PI, W7SSK, W7VAN, WA7KPK, WA7SCH, WB7AJP, WE7P, WR7K
WI AB9DK, KA9SWE, KE9JF, KE9LZ, NA9J, WB9BJQ, WB9NRK
WV K8OHZ, KC8GCR, WB8QPG

Addendum: Here's the states (32 of them) that I've worked over the last month.


AK KL5E, KL7YK, WL7BDO
AZ AC7LB, K7TEJ, KM3N, KW7E, N7NEV, NV1D, W8FDV
CA N6BX, N7LMV, W6KY, WA6OWM
CO AA0DW, AB0YM, KC0ZGK, NK0G
CT KB1UUB, WA1NGH
FL KK4XO, N4ABN
HI KH6GRT, KH6SAT
IA K8OM, N0GR
ID KF7GMV, N7OQF
IN N9WKW
LA W5ADD
MA KB1UIF
MD K3IO, K3VPZ, N3CAL
MI KK8MM
MO AC0MW, WD0ECA
MS N4UPX
NC KR4RO
NE WD0DMO
NH K1CF
NJ K2AFY, K2RH
NM KC5TY, WA5DJJ
NY KC2MBV, WA2GSX
OH N8TL, WT8D
OK AA5CK, AE5US, K5WPN
PA AD2L, W8IJ
PR NP3FS
SC N4ITM, WB2GJD
TX K5WW, N5LYJ, WA5MS
UT KJ2U
VA N4RP
WA AE7U, K7MSC, KE7WEG, W7PI, WB7AJP
WI AD9P, WB9SDD

Not a bad list, really, given how crappy my antenna is. Most of the DX was heard on 20m.
Alaska, Argentina, Asiatic Russia, Australia, Austria, Belgium,
Brazil, Canada, Chile, China, Cuba, Curacao, Czech Republic, England,
Estonia, European Russia, Fed. Rep. of Germany, Finland, France,
Gabon, Guantanamo Bay, Hawaii, Indonesia, Japan, Netherlands, New
Zealand, Poland, Puerto Rico, Republic of Korea, South Africa, Spain,
Switzerland, Taiwan, Thailand, US Virgin Islands, Ukraine, United
States, Venezuela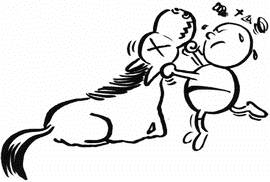 Last night the mailbox contained the latest copy of QST magazine, which always means at least a few minutes of interesting reading. I usually read the magazine more or less front to back, flipping through. I mostly enjoy technical content, but reading about other aspects of the hobby (contesting, etc...) as an interesting diversion.
Sadly, some things are more irritating than diverting, such as the "Letters from Our Members" on page 24. For the last couple of months, some insist on perpetuating the endless whining about the decreasing quality and experience of the newly licensed. Some small samples:
I feel that hams still need to spend at least two years in each license class before upgrading. I have always thought it was the Extra class licensees who we all looked up to because they had the experience that the lower license classes did not have.

Paul Eaton, KR4IN
Morse code is what distinguishes hams from other hobbyist wireless communicators; it's really the only differentiator. …

The excuse about being handicapped might have great merit for some, but not for me. I know and have worked hams who are blind, deaf, and paraplegic many times. …

Steve Katz, WB2WIK
When I read stuff like that, it just makes me weary for our hobby, even more so that QST chooses to continue to devote inches of their magazine to give a soapbox to such counter-productive discourse.
Paul is basically trying to make the assertion that the Extra license used to mean something that it no longer does: that if someone held an Extra class license, you could be assured that they knew what they were doing, that they were the acme of our hobby. I would submit that it was never true: that as long as so-called "incentive licensing" has been around, the only thing that you could be reasonably assured of was that someone had taken the required tests and received a passing grade. The idea that an amateur license conveys some expertise in itself is just credentialism: it prevents you from actually having to through the effort of actually trying to determine the skills and knowledge of someone else before you pass judgement upon them. There are hams who hold the "lowly" Technician class licenses who are incredibly skilled and knowledgeable, and Extras of many decades who are not. Judging someone's abilities based upon simple measures like how long they've been licensed or what class they achieved is fraught with peril.
A ham radio license is like a fishing license. It's a way for the government to limit access to a scarce shared resource that they manage for the benefit for society. The government's interest in testing you is to ensure that you use the resource in a way which is not harmful to other spectrum users, and without significant risk to the public. And that's it. All the other items listed as purposes in Part 97 are our shared responsibility as hams: to self-train, to help our communities in times of emergency, and advance the radio arts. Those responsibilities are what all hams should aspire to do, regardless of license class, regardless of experience level.
And Morse as the "only differentiator"? Sigh.
First of all, I wonder just who these other "hobbyist wireless communicators" are that Steve is referring to? Is he talking about CBers? People who use the FRS or MURS? Or perhaps the myriad wireless users of Part 15 based wireless access points? It's true, most/all of these services do not use Morse, but is that the only differentiator? Really? As hams, we are empowered by our license to build our own equipment and operate on frequencies and modes which are not available to the operators of any of these other radio services. And of course we are challenged to train and learn more about radio, which was never really a cultural component of any of the other "hobbyist" wireless options. Surely those distinguish us rather strongly from these other services.
And the fact that Steve does not accept the fact that there are people whose handicaps could keep them from passing a Morse code test does not actually mean that such people do not exist. But more than that: why should a parapalegic or deaf person have to struggle more to become a radio amateur than someone without these physical difficulties? After all, there are plenty of able bodied hams who struggled to pass these tests, only to never use Morse again. The service is not enriched by such people or their struggle. It's simply not relevant.
Hams like Steve and Paul are dinosaurs: clinging to a view of ham radio that's not healthy or relevant. The credential doesn't mean what Paul thinks it should. The importance of Morse is much, much slimmer than Steve thinks it is. Neither attitude encourages anyone to participate in this great hobby. They are just beating a dead horse.
I've often thought that the various ham radio podcasts that I like don't really cater to the technical side of the hobby. Sure, you can get news from the Amateur Radio Newsline, and some nice introductory material on Ham Nation or the ICQ Podcast, but on the whole these podcasts don't address technical issues very deeply. Even SolderSmoke, a podcast dedicated to homebrew radio, doesn't really dig into the technical details very often.
That's why I was so pleased to see "Chat With Designers". Every Tuesday at 8PM Eastern (0000z), George Heron, N2APB and Joe Everhart, N2CX get together on Teamspeak, an internet conferencing system and discuss technical topics of interest to radio amateurs. Back on April 24th, the discussion was on magnetic loop antennas, a subject that I am fairly interested in and I found the discussion quite interesting. What's very nice is that they also provide MP3s of the session, logs of the text messages exchanged via TeamSpeak, as well as PDF notes that include many references. Bravo gentlemen! And thanks to the NJQRP for hosting these very cool discussions. I'll try to tune into one live in the near future.
On the last day of March, I started using the JT65-HF program to do some digital operation on the HF bands. In the roughly month since then, I've logged contacts with 30 states, and 13 DXCC entities, using my ICOM IC-735 and a crappy 40m dipole that's mounted far too low. In the last week alone, I've heard stations in 46 DXCC entities. For operation inside the U.S., power levels of 10 watts seems entirely adequate, whereas the DX contacts seem easier with 25-35 watts. I'll try to do a more informative video about these operations in the near future, but for now, here's the contacts in 30 states. It's been a lot of fun, give it a try if you haven't before.

AK WL7BDO, KL5E, KL7YK
AZ N7NEV, KW7E
CA K6SID, W6KY, N6BX
CO AB0YM, NK0G, KC0ZGK
CT WA1NGH, KB1UUB
FL N4RP, KK4XO
HI KH6GRT, KH6SAT
IA K8OM
ID KF7GMV, N7OQF
IN N9WKW
KS K0KU
KY N4ITM
LA W5ADD
MD K3IO, K3VPZ
MO WB0LCW, WD0ECA
MS N4UPX, K5WW
NC N4ABN, KR4RO
NH K1CF
NJ K2AFY, K2RH
NM WA5DJJ
NV KB7NO
NY KJ2U
OH N8TL
OK AA5CK, K5WPN, AE5US
PA W8IJ
PR NP3FS
SC WB2GJD
TN NS2R
TX WA5MS
WA AE7U, KE7WEG, W7PI, K7MSC