Raspberry Pi Camera NoIR…
I've been playing around with the Raspberry Pi Camera for a number of different purposes, but one thing is pretty apparent right off: while the quality overall is quite good, it's not very good in low light. Because at least part of my potential application is watching the night-time activities of wildlife (most likely my cat, but perhaps including foxes that cruse around yard) I decided to order the version of the Raspberry Pi Camera which had no IR blocking filter, called the Raspberry Pi NoIR. It arrived today, and at the same time I ordered an inexpensive IR illuminator to serve as a light source. Addendum: The illuminator died after less than 12 hours of use. Do not buy this one. It's rubbish.
It arrived today!
Out with the old camera, in with the new, power on the illuminator (if you order the same one, note that it does not come with a wall-wart to power it) and voila: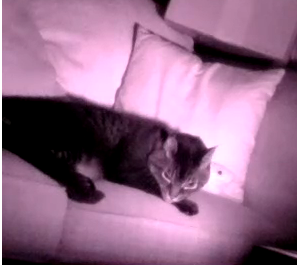 Scrappy Cam!
Okay, a couple of quick notes. The illuminator is just not that strong. Here, the illuminator was a little under five feet from the the couch. For stuff that is more distant, it's clear that the illuminator just isn't good enough to reach into the corners of the room. Check out…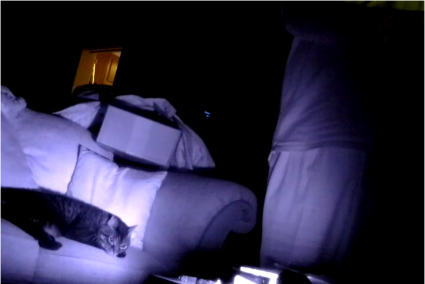 You can see me standing to the side. Obviously, the color balance is all wonky, it's going from magenta to purple. The frame rate is still quite low, which in my streaming application manifests itself as a pretty long delay. Still, seems pretty cool! More experiments soon…