At lunch today, I managed to get a quick flight in before the field was taken over by soccer players. Unlike my early attempt, this time the gimbal was working. The footage is not all that interesting, since I don't have FPV setup, I can't see what the camera is aimed at, which makes the framing hit and miss, but it is at least reasonably stable. I might try to tweak some of the settings for the gimbal, it moves very quickly when you try to tilt the camera up/down.
But I've completed five flights, still no crashes!
Yep, it's that time again when the Oscar nominations are announced, and once again my Pixarian overlords are nominated for no less than five Oscars for their movie Up. This extraordinary achievement seems almost mundane: you expect to see nominations for Best Animated Feature, and probably for Music or Sound Editing. Even one for Writing (we have some terrific writers). But what's pretty amazing is that Up shares a Best Picture nomination with nine other films. There are those who said (along with me) that it was impossible for an animated film to get a best picture nomination now that the Best Animated Feature category exists. Guess I was wrong.
Oscar.com - Nominations - Nominated Films.
Congratulations to my fellow Pixarians.
Addendum: I hadn't heard that there would be ten best picture nominees this year. Here's the press release that announced it.
Well, today's the day. For about the last year, I've been working away deep within the halls of Pixar Animation as part of a fantastic crew, and today (and for the next two weeks) you all can see the result of our efforts: the conversion of the original Toy Story and Toy Story 2 into 3D. For many, this is an opportunity to see a pair of classic films on the big screen, and in a new way that we all hope you will enjoy. Check it out, and let me know what you think!
'Toy' Stories in 3-D - Buzz Lightyear Finds a Dimension - NYTimes.com.
This picture was circulating around the mailing lists at work. It made me smile.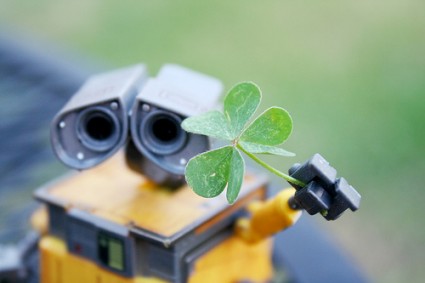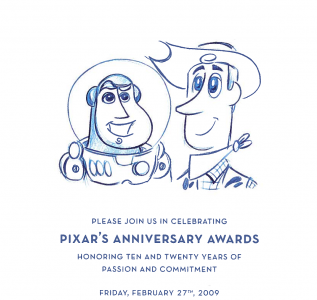 I work for a great company that genuinely tries to do well by its employees. Tomorrow, they are giving some of us old timers (I've been here for eighteen years) a pat on the back, which is a darned nice gesture. Working for a company this long is practically unheard of in this age, and I just thought I'd make a brief public statement that their appreciation is, well, appreciated.
On February 7, 1991, I became an employee of Pixar Animation Studios. Tomorrow will mark my eighteenth anniversary. It's practically unheard of to spend eighteen years at a single company, but Pixar is a pretty amazing place, filled with pretty amazing people. Today, in celebration, I took a couple dozen of my coworkers out for pizza to celebrate, and one of my team members Don made an adorable cake in celebration (pictures to be added later). Bob asked me what some of my favorite moments were. All the premieres were great, but I think the first one for Toy Story has to stand out in that sitting there, watching the movie, you knew that you had just participated in creating something special. The Winter Waltz was pretty nifty. The opportunity to watch the astoundingly talented Brad Bird direct two films, and realizing that he's just a darned nice guy too. Contributing to the RenderMan rendering software as part of a very, very talented software team. Meeting friends like Tom Duff. Finding a new place in rendering, with some very talented people like Don, Yaz, and Susan whom I'm honored to call my friends.
It's a great ride. Let year nineteen commence!
Here's the gang I work with at Pixar Animation. This was taken with the incredibly low budget technique of snapping a picture, moving the camera, and snapping another one. Of course, a couple of us moved in the interim, but thanks to the judicious work of Reid, who carefully stitched and offset various bits, it works remarkably well.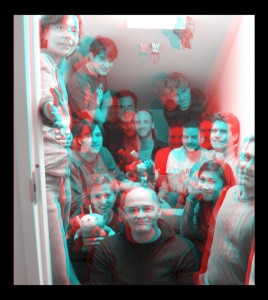 This morning I awoke to find that Pixar's Wall-E had been nominated for an incredible six Academy Awards!
Best Animated Feature Film of the Year
Achievement in Music Written for Motion Pictures (Original Score)
Achievement in Music Written for Motion Pictures (Original Song)
Achievement in Sound Editing
Achievement in Sound Mixing
Original Screenplay
Pixar's short film Presto also got a nod in the Best Animated Short Film Category.
Every year, rottentomatoes.com gives out an award for the film which received the best reviewed film of the year. This year, Wall-E narrowly edged out The Dark Knight and Iron Man to get top honors. It's cool to have worked on a movie that so many people obviously liked. Congratulations and thanks to Andrew Stanton and all my other Pixar overlords.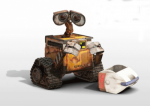 I don't spend much time talking about my day job here on the blog, but every once in a while, I have to take time out and crow a bit about Pixar and what a great place it is to work. Tonight, Wall-E picked up a Golden Globe for Best Animated Film. It was also nominated for Best Original Song for the great closing song written by Peter Gabriel and Thomas Newman, and performed by Peter Gabriel and the Soweto Gospel Choir.
I am once again amazed at how much fun a job can be, and how enormously fun and talented a crew we have. Special thanks to all the rendering crew, and congratulations to all who worked on Wall-E.