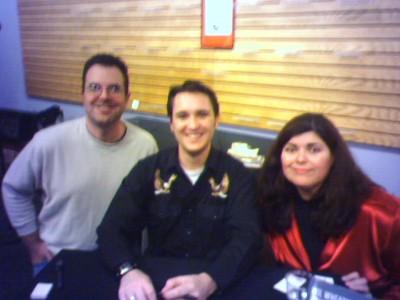 Where your host forgoes his usual activities at Chabot Observatory and instead accompanies his wife to Wil Wheaton's booksigning at the Border's in Union Square.
As is true of many things, it was actually my wife who took notice of his blogging activities. I've read his blog off and on for quite some time, and have just become more and more impressed as time goes on. What I find most attractive about his day-to-day writings is that you can see the conflict that we all have within us: the conflict between our ego which tells us we are great and our doubts which tell us that we are failures. As an actor (and a struggling one), Wil experiences this inner battle with a frequency that may be higher than your typical individual, but we all can empathize. What I think is really remarkable is that while he still fights these battles, he's clearly winning. Not winning in the sense that these battles no longer trouble him: only conceited asses never suffer from self doubt, but rather in the sense that he seems satisfied with the ride. He takes joy in his wife and children. He can now look back on his Star Trek experience, and he can look forward to a bright future as a writer, as a speaker, doing improv, and probably a bunch of things he hasn't even thought of yet.
It's great to see such a nice guy survive his early success and become a well rounded adult.
He also took time in the beginning to mention how terrificly empowering blogs are, repeating some of the themes that I've mentioned from time to time in these pages and in my podcasts. He's a guy who realizes the power of the Internet is that we don't have to approach so called "gatekeepers" for permission to participate in popular media: we just need very modest computer equipment and an Internet connection. He was really plugging the Internet as a vehicle for public expression. Right on!
Wil went way over on time, and then patiently signed and posed for photographs, doubtlessly listening to dozens of people's stories, nodding patiently and good naturedly. When my wife went up to sign, he wrote a very nice note thanking her for her support, and noted that she had one of the very early copies of Dancing Barefoot. Wil, you get my thumbs up. Keep up the good work.