Okay, I hadn't been doing any WSPR beacon operations since before Thanksgiving (which was also before my new callsign) and I was kind of bored today, so I dug out my power supply, tuner and interface and set my computer beaconing again on 30m. It's a combination beacon: using WSPR above 10.140100, and a visual "MV" written as part of a sawtooth in the visual MEPT portion of the band (between 10.140000 and 10.140100 Mhz). Output power is about 4 watts, split between both signals.
I'd be interested in any reception reports.
Addendum: Click this link to examine the reception reports I'm getting via the automated WSPR logging.
Addendum2:
Today, on Jan 2, I got a reception report from W1BW, and I could faintly see my "MV" appearing on his grabber: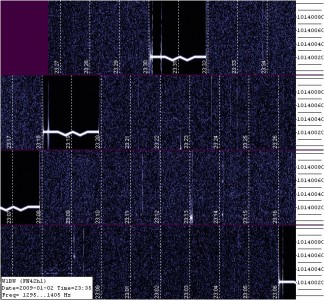 You can see his "flying W" very strongly, and if you stare really close (click on the smaller image) you can see my MV which looks like part of a sawtooth around 23:22 (and other places).
Addendum2: Alan, VA3STL in Ontario also noticed my signal on the 2nd. Here is his screen grab, showing both my MV and my MEPT signal.