This morning began like any other. I logged in, checked my email, and searched wsprnet.org for WSPR spots of my beacon, to see if any unusual callsigns have shown up overnight. I saw that ZL3IN managed to spot me overnight (I've gotten him a few times), but I also saw WA2YUN, reporting me from grid square RK39hh. RK39hh? Where the heck is that?
It turns out it's Wake Island.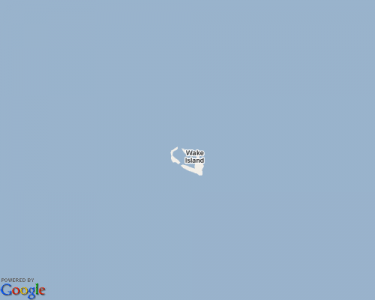 It's a tiny coral atoll in the Pacific, only a couple miles across, and has played an interesting role in the history of the United States, particularly during the Second World War. I find it very cool that Colin is over there, running a WSPR listener.
| Timestamp | Call | MHz | SNR | Drift | Grid | Pwr | Reporter | RGrid | km | az |
| --- | --- | --- | --- | --- | --- | --- | --- | --- | --- | --- |
| 2009-02-13 10:04 | K6HX | 10.140133 | -33 | 0 | CM87ux | 2 | WA2YUN | RK39hh | 7072 | 275 |
| 2009-02-13 09:56 | K6HX | 10.140133 | -23 | 0 | CM87ux | 2 | WA2YUN | RK39hh | 7072 | 275 |
| 2009-02-13 09:40 | K6HX | 10.140133 | -24 | 0 | CM87ux | 2 | WA2YUN | RK39hh | 7072 | 275 |
| 2009-02-13 09:32 | K6HX | 10.140133 | -21 | 0 | CM87ux | 2 | WA2YUN | RK39hh | 7072 | 275 |
| 2009-02-13 08:04 | K6HX | 10.140133 | -28 | 0 | CM87ux | 2 | WA2YUN | RK39hh | 7072 | 275 |
| 2009-02-13 07:56 | K6HX | 10.140133 | -32 | 0 | CM87ux | 2 | WA2YUN | RK39hh | 7072 | 275 |