Today we got an interesting new toy in the lab, a Fujifilm Finepix Real 3D W1. It's a very cute little camera which you can think of as being the modern day equivalent of the old Nimslo 3D cameras. It has two lenses, and can acquire both 3D and regular 2D images, which it displays on a built in 3D lenticular display on the back of the camera.
But that's not that much fun, you'd have to pass the camera around, and let's face it, the display is pretty small. Fuji is supposed to have a digital picture frame which can display these images in 3D, and is also supposedly going to have a service bureau so you can get lenticular prints made, but again, that's not much fun, at least not today. So, instead, I decided to see what I could learn about the image formats that it uses.
For still imagery, it writes both a .JPG and a .MPO. The JPGs are just standard JPG images, and can be read by pretty much anything. The MPO files are Multi Picture Objects, which are a format that I hadn't seen before. Digging around a bit, I found out that (with some complications) they are mostly just two concatenated JPG images. Most JPEG readers seem to open and read the first image (which I believe to be the right lens image) without any difficulty, so if you weren't interested in the stereo image, you could pretty much just treat them like JPGS (although iPhoto doesn't even try to notice them, and refuses to try to open them).
A little more digging revealed that there is a tool called exiftool which can be used to extract the images. After you install exiftool, you can run:

exiftool -trailer:all= input.mpo -o R.jpg
exiftool input.mpo -mpimage2 -b > L.jpg

to extract the left and right image. If you have ImageMagick installed, you can create a red/blue anaglyph with a command like:

composite -stereo L.jpg R.jpg stereo.jpg

Here's an example that is just an image that I shot as a test: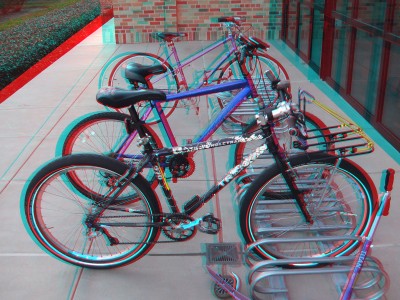 I also did a bit of experimentation with video. It appears that it records an AVI file with two different video streams and one audio stream. I did some quick tests using mplayer to dump frames of each video stream into separate directories, combining them with composite, and then making a video back out of the resulting frames. It worked, but the example footage was terrible, and I could work on improving the results, so I'll hold off on that example for now.
Overall, it's a pretty neat little gadget, but I must admit you can buy a much better camera for the $600 price tag that it costs. It's neat not just for what it can do, but because it demonstrates some of the capabilities that I think cameras of the future will have.
More about it after I play with it a bit more.