Checker expert Jim Loy has a number of quizzes on his website, including the following one that I found as part of my earlier post on the Double Cross opening:
Here are the moves that milhouse chose with a hard time limit of 30 seconds per move, along with the resulting points awarded…
5-9 (+5),16-20 (+5), 8-11 (+5), 11-16 (+5), 5-9 (+5), 5×14 (+3), 7-11 (+2), 6-9 (+5), 7-10 (+10), 1-6 (+10), 9-13 (+10), 3-7 (+15), 13-17 (+10), 6×13 (+5)
The moves marked in bold are moves which differed from Jim's main line.   Milhouse scores an impressive 95 out of a hundred.  The only move which causes it to not score a perfect 100 is the position where Milhouse chose to play 7-11 instead of the preferred 4-8 line.
Let's look at the position…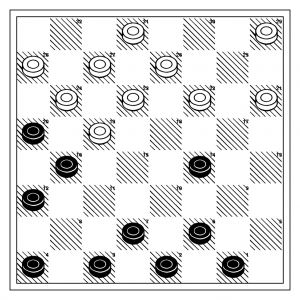 I've just begun to toy around with analyzing this, but both Milhouse and Cake seem to not like the response that is given in the line. Milhouse isn't smart enough to see the line as won when it tried 7-11, but after 4-8 22-18, it sees itself as up a full man in only a 17 ply search.
I've sent an email to Jim Loy for more expert analysis. We'll see what he has to say about the matter.
But still, 95/100 is pretty good. 🙂