Tom mentioned that a new supernova had been found in M101, a spiral galaxy in Ursa Major. While I used to be a bit of a telescope maker, and could generally find my way around the sky, I wasn't one hundred percent certain I knew where to find M101. So, I turned to my copy of
Uranometria 2000. And… I still didn't know really. The charts in that book are good for star hopping at the eye piece of a telescope, but less so for just finding your way around the sky.
In digging around for a decent online map, I found a link to the Mag 7 Star Atlas Project by Andrew L. Johnson. It's a very nice 21 page atlas, which is very pretty, and is excellent for both visual use, and use with small telescopes or binoculars. And it's licensed under the Creative Commons too! Win!
Below is a JPEG of the first chart, rendered at 2K wide. The actual atlas is in PDF format, so will print out at the full device resolution, and will look even nicer.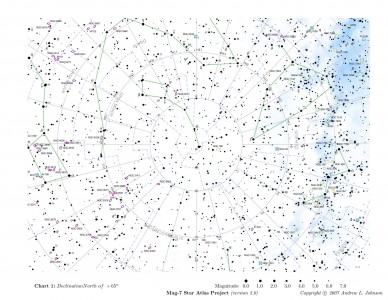 Here's the link:
Mag 7 Star Atlas Project : Andrew L. Johnson : Free Download & Streaming : Internet Archive.