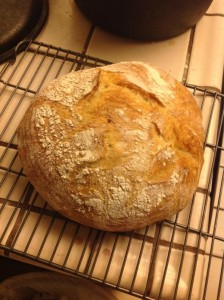 This morning I was in a rush to get out of the house, and didn't have time to make a big breakfast, so while I was gathering my stuff, I cut a fairly thick slice of bread off the loaf I made last night and jammed it in the toaster. As I was about to leave, the toaster popped, I quickly smeared on a tablespoon of peanut butter, and headed out.
It was really quite delicious.
Other than some Jewish ryebread that we got the other day, I haven't bought a loaf of bread since last year. Instead, I make it, using what I consider one of the greatest food hacks of recent memory: Jim Lahey's no-knead bread. Making bread this way is straightforward and ultimately rewarding: to have a tasty hot loaf come out of the oven, after filling your kitchen with that bready, yeasty smell feels like you are really cooking, that you really understand food.
Yes, yes. Some of you are of the anti-carb religion. I know, carbs do terrible things to your blood sugar and insulin levels, which mucks with all sorts of things having to do with metabolism and weight management. I even agree with it, at least to a point. But "bad foods" have gone through cycles. When I was a kid, it was sugar. Then it was fats. Then carbohydrates. We want to do the right thing, but we get fed conflicting information. We were told that there were links between consumption of fats and coronary disease, but more recent studies seem to refute this basic idea. Recent studies question the idea that omega-3 fatty acids improve cardiac health, or that dietary fiber protects against colon cancer. What's a guy to do?
I'm trying to develop a philosophy of food, cooking and eating that will feed and nourish my body, and still provide me with the rich, emotional experience that I enjoy from food. I like Michael Pollan's simple philosophy:
Eat Food. Not too much. Mostly plants.
I'm been mostly thinking about the first one over the last month, that I should be eating food. I began to realize that my weight (and the associated health issues related to it) weren't really being caused by the occasional trips to the fancy restaurants that my wife and I enjoy a few times a year, nor by the meals that I prepared for myself, but were caused by all the "food-like" substances that I ate without thinking. So-called fast food. Processed food. Food that came in boxes, with nutritional labels. I began to view even the "Smart Ones" frozen foods that my wife and I consumed almost daily in our previous bought of Weight Watchers were part of a basic problem: a prioritization of convenience over actually taking the time and energy to think about, prepare, and consume actual food.
So, back to bread. The no-knead bread takes about 3 cups of flour to make. Along with infinitesimal amounts of salt, yeast, and a water, all it takes is heat to convert this into a large crusty loaf such as the one I pictured above. I made that loaf with unbleached bread flour (King Arthur's). Should I be eating this? Should I be making this?
I'm going to say "yes", with certain reservations.
First of all, while it is made from a fairly processed raw material (bread flour), it contains none of the "non-food" items that you frequently see on bread labels. It has no high fructose corn syrup (in fact, no added sugar). It has no preservatives. It's just flour, salt, yeast and water. It's pretty much the same recipe that humans have been making for thousands of years. It would be hard to classify bread made this way as a non-food: bread is practically the definition of food. We could deconstruct all the components: a cup of bread flour has about 361 calories, 2g of fat, 73 grams of carbohydrates, 12.7 grams of protein, and 1 gram of sugar. That is a lot of carbohydrates. There isn't a lot of vitamin content in the bread either. But even if you ate 1/3 of my loaf in a day, it would account for less than 20% of the calories of a typical 2000 calorie diet. Reasonable (not even small) portions of this bread can be a part of your daily meal, and of course, I don't even eat it daily. When I do, I try to make sure other aspects of my diet are richer in proteins and vegetables.
Secondly, I'm making it myself. I'm under no delusion that the bread is more nutritious as a result, but I'm trying to modify some of my destructive food behaviors. One of the ways to do that is to stop shooting for convenience. Convenience foods are there when you don't want to be bothered to think about what you are eating, but you should be thinking about what you are eating. While this bread is simple to make, it does take 24 hours to make. You have to think ahead of time, and that means that you tend not to eat it without thinking about it. I firmly believe that so-called 'food scientists' are working mostly to make products which are addictive and convenient, rather than satisfying and nutritious. I can do better.
Third, and perhaps most importantly: it's better in almost everyway than the convenient food it replaces. Check out that loaf again. It looks better. It smells better. It tastes better. When I make it, I feel like I'm cutting out the bad stuff, and concentrating on the good stuff. I think about building meals around a few slices of bread. I think about butternut squash soup. Or maybe just some braised greens and some crusty slices of toast. This morning's peanut butter and toast was brilliant. The toast had a crispiness that I don't think you get in prepackaged, pre-sliced bread. I modified the cooking times and preps a bit from my previous loaf, and the bread came out higher, and with a more delicate crust. I'm already imagining the next loaf I'll make (probably next week).
I'm going to enjoy bread and pasta, but I'm going to think carefully about it. I'm going to maximize my enjoyment of it, while moderating my consumption.
Addendum: One of the most interesting books I've read lately is Tamar Adler's incredible Everlasting Meal. She makes a claim in her book which struck home with me, that it's impossible to solve dietary problems without cooking (I'll have to look up the exact quote). Her book is a brilliant celebration of the art, craft and philosophy of cooking and food. Well worth reading.