Over the last few weeks, I've been a bit more intrigued by one of my old interests: telescopes and astrophotography. During the transit of Venus, I hooked up an old black and white video camera, and tried to take some snapshots, but wasn't really pleased with the results. So, I decided to try to adapt a webcam for telescope use. A bit of research online said that the Microsoft Lifecam Cinema HD was a good choice, and an adapter was available that should make a nice, lightweight camera.
The Microsoft Lifecam Cinema HD is very small, nearly ideal package, but you do have to do some modifications to get it into the barrel and adapt it for telescope use. You can find some of the rough instructions here: you need to disassemble the camera, remove the button and microphone, and then get rid of the lens and IR filter. When you are done, you reassemble it, and it slides into the Billet Parts adapter just as neat as you please and is held in place by an O-ring in front and the back screwing in the back. A very tidy package. Oh, and you probably want to get rid of the bright blue led that remains on the front panel. I took an Exacto knife and just cut it off.
Here are some pictures of the assembled package:
Here are a couple of the pictures I snapped from it after plugging it into a 6″ f/5 reflector I have, and aiming it by hand up the hill. Without a tripod, it wasn't possible to focus it accurately, but it gives you an idea about what the capabilities are. The colors are wacky precisely because the IR filter of the camera was removed, and it's a very bright and warm sunny day here.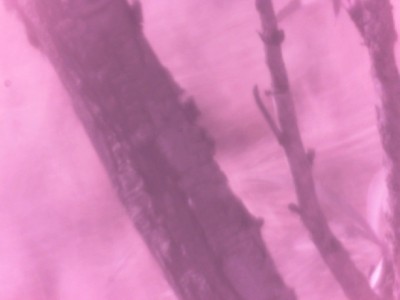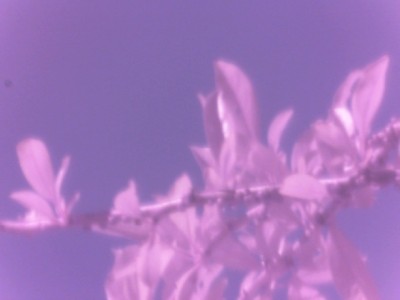 I'll try to get it hooked up for some real imaging this weekend. Stay tuned.