I haven't had much of a chance to get to ballgames this year. I normally go to about a dozen or so A's games during a typical season, but this year I basically haven't made it to any. Life has just filled up with other things to do. But last night, the mystical forces of the diamond converged in the form of a pair of free tickets and a free parking night at the O.co Coliseum. Athletics vs. Astros, woohoo!
It was a beautiful night for a ballgame. Temperature was in the mid sixties or so, with very little wind. At first pitch, it didn't seem like there would be a very large crowd. There were lots of empty seats. I guessed that fewer than 10,000 fans were in attendance, which was actually kind of okay with me. I like the relatively lay back atmosphere of these mid July games. But as the game wore on, more and more people began to sit down. Checking this morning, official attendance was 22,908. Not too bad.
A very nice game all in all. The A's gave up 2 runs in the top of the third, but scored in the bottom half and again in the sixth to tie the game. It remained that way until the end of regulation, but L.J. Hoes would end up hitting a home run for the Astros in the top of the 12th, and the A's went down 1-2-3 in the bottom half.
Ah, but I've buried the lead.
In all the years that I've been going to ballgames, I have never come away with a foul ball. I have been hit in the head by one, but my slow reflexes, and the near concussion meant that I didn't come up with the ball on my one best shot at getting one. But last night, I finally did it, in the most surprising way.
Carmen and I were seated in row 29 of section 113, which is directly (but far) behind the visiting teams dugout. The top of the third had just ended, so I was just sitting there, checking my phone when…. suddenly people around me are excited. I look up just in time to see a ball, which literally landed in my lap, bounced against my chest, and stopped. I'm guessing that one of the Astros lobbed this ball trying to get it to the very cool pair of Astros fans in row 20 or so, but had misjudged. And so, this time without the threat of head injury, I got my first game ball: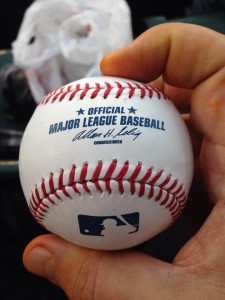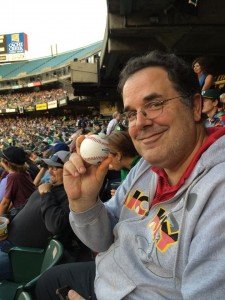 Awesome! Achievement unlocked.