In addition to my geek hobbies, I have resurrected a skill that was taught to me by my Grandma Busch when I was seven years old: crochet.
It began earlier in 2017, when Carmen wanted me a pussy hat so we could attend various protests and rallies. I told her I could knit or crochet one. I hadn't done any of either since I was in my early teens, but with the Internet at my disposal, I was sure I could recover my skills. My first knitted attempt was pretty terrible (I was always better at crochet), but my second attempt in crochet was entirely respectable. I made myself a matching one, and also did one in camouflage colors:
After this, I kind of got the bug and decided to make Carmen an afghan. I found this excellent Bernat Blanket Yarn, and tinkered this together in my spare time over a few weeks. Carmen really loves it. It's warm and snuggly, but with lots of air gaps that make it breath (and which the kittens like):
Speaking of cats, I made some cat toys stuff with catnip: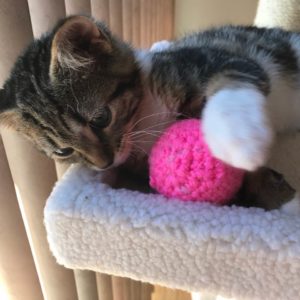 I also learned about a new technique called "planned pooling." You take a yarn which is variegated, and by carefully spacing your stitches, end up with interesting argyle patterns. I haven't finished a real project with this yet, but it's pretty cool.
And of course I made some stockings for my grand daughters:
It's all been a blast. I continue to tinker on projects: I have another afghan that I've stalled on, and have recently thought about doing a project with "c2c" (cornet to corner) crochet, as well as honing my skills with Tunisian crochet. I find this to be a good way to relax which uses a different part of my brain than programming.
Some links for those interested:
C2C (cornet to corner) crochet for beginners.
A quick guide from Red Heart on color pooling.
Getting started with Tunisian crochet
It can't all be electronics and 3d printing after all.