Earlier this week, I snapped a couple of iPhone photos of the partial solar eclipse with my iPhone, through coworker Eric's mighty spiffy little Questar, equipped with a filter. Despite the glare, I was shocked at how much detail was actually available, especially for sunspot group 2192, which has been busy kicking off solar flares all week (six major events at last count). I decided to crop the image, convert it to grayscale and work on enhancing the contrast. I also thought it would be nice to get some idea of how truly huge this spot was. Using eye protection, I could see the spot clearly without any magnification at all. But I thought it might be cool to see how big it was compared to the earth. I measured the diameter (roughly) of the solar disk on the image, and then divided it by 109 (the sun's diameter is about 109x the diameter of the earth). Convert that to pixels, and you get the following picture: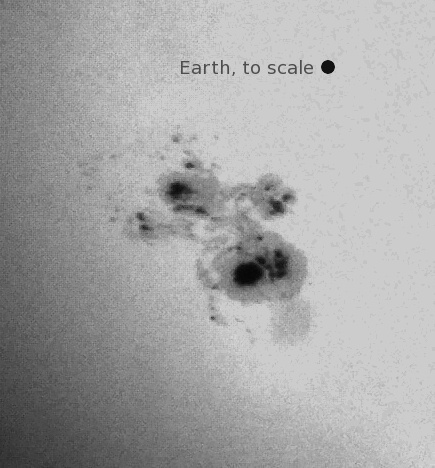 At scale, the earth is only 14 pixels wide.
Does the universe make you feel small?