Soapbox: A Story and a Request on Behalf of Your Pets
Over on Facebook, I read a rather disturbing story about an Ohio humane officer who shot a litter of kittens within earshot of children. As someone who cohabits with an American shorthair (more later) this story is quite disturbing to me on multiple levels.
But rather than dwell on this, I thought I'd use my internet soapbox to tell you the story of my current cat, Scrappy.
I don't know whether Scrappy was feral, or merely homeless, but back in 2004 I was working outside in our backyard when a skinny, bedraggled looking cat nervously edged up to me. He was emaciated to the point that he just looked odd. His face was all drawn and his fur was matted. He meowed at me with a rather plaintive sound. I found him something to eat, but he wouldn't let me get close. Over the next few days, I got him some proper dried cat food and water, and fed him outside. He returned regularly, and began to look healthier. And prettier. We slowly started to move his food dish inside, although he was still an outdoor cat. After a while he'd spend an hour or two in the house, and would let us pet him. Our neighbors next door also would fed him, and he became a regular feature. Eventually, we named him.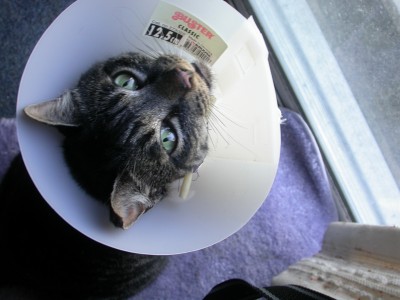 He got his name because likes to fight with other cats. While he was timid with humans, he seemed to like to get in fights with some of the other homeless cats that seemed plentiful in the open space behind our home. One day, he didn't show up for food. I found him in our garage, clearly in some pain, with his fur all matted and wet, and several fresh bite wounds. It was then that all my patience in trying to get to handle him paid off: I put him in a carrier and took him to the vet. That first trip was scary for me: while he struggled with me when I tried to put him in the carrier, he didn't scratch or bite. Once he was in, he was simply terrified. He cried and very clearly was hyperventilating.
After his first (but not his last) vet visit, we got him all cleaned up and patched. The vet estimated he was maybe a year old or so. We got him all up on his vaccinations, had him microchipped, and found that he'd been neutered, although whether it was because he had a previous home or because he had been part of a program that caught and released feral cats in our neighborhood, we couldn't be sure. Over the next few years, he got in a few more fights, eventually causing us to endure a painful week of howling when we finally made him a 100% indoor cat, and, minus some brief escapes where he still managed to find someone to fight with, he's now a permanent fixture with us.
He's a great cat. Smart, affectionate, and now that he's fed and taken care of, rather handsome. He likes to spend time between my wife and me, on the footrest of our recliners, out in the living room where his scratching posts, or looking out the window. We've taught him to shake hands. I love him. I only wish he'd last forever.
Okay, that's the story, now the sermon.
Cats and dogs are here because we humans like them as pets, or at least, because we think we do. Sometimes the reality of being a pet owner doesn't mesh well with what we expect, and animals end up being abandoned or sent to shelters. The Humane Society says that between six and eight million cats and dogs will enter shelters each year. Of those, about three to four million will be adopted, but by their estimates 2.7 million adoptable animals will be euthanized. That is tragic. The story that started this post seemed monstrous to me, but the fact is that whether these kittens were shot or not, they very likely might have been euthanized, even if they were adoptable. Given the joy that my adopted cat-friend has brought me, I can't help but be saddened by that.
So, I implore you:
First of all, if you choose to adopt a pet, be a good caretaker. Think hard about the commitment you have to make to the animal. If you question your ability to care for your pet long term, then buy a plant instead. Animals are living things, and require care and attention. Educate yourself on what it will take to be a good caretaker, and make an informed decision.
Spay or neuter your pets. Please. Really. This is just an extension of being a good caretaker. Spaying and neutring animals helps fight pet overpopulation, which is currently overtaxing shelters nationwide. There are other good reasons to do it, but to me, that will do as a start.
Please, don't de-claw your cats. Lots of people think this is no big deal, but declawing is actually a pretty draconian procedure, basically equivalent to amputating your fingers at the endmost knuckle. It is far better for you to train your cats to use a scratching post and accept the occasional nail trim. Declawing cats is traumatic for them, and often can result in other behavior problems.
When you are getting a pet, consider getting a shelter animal. These animals are at the last stop, and are looking for a best friend. The Shelter Pet Project website is a great place to start. Until our animal shelters are empty, doesn't adopting a pet make sense?
Comments
Write a comment