My face is red. I had claimed yesterday that nobody had tried to decode my SSTV challenge, when in fact both Ken and Eric decoded it. Eric was the first, who sent me this decode: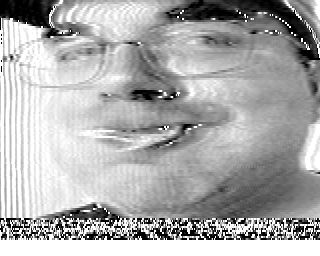 It's a bit noisy, because he just played the sound file on his laptop and decoded it on a PC using the microphone inputs and running MMSSTV.
Eric followed about forty minutes later with his decode, again using MMSSTV.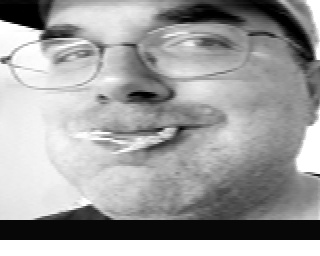 Pretty neat.
I didn't think that MMSSTV had the 8s mode in place, but sure enough, if you right click on one of the mode buttons, you can select an 8s B/W mode. It lists it as 160×120, which is keeping more in line with modern aspect ratios, and explains why my face looks squished. I will have to dig into the code a bit to see what it would take to make an encoder/decoder which is entirely compatible with what MMSSTV expects.
Thanks again, Ken and Eric, and apologies for not seeing your notes.